Folklife 2022
We want to share our upcoming performances at the Northwest Folklife Festival at the Seattle Center - our 25th annual appearance there!  Join us and bring your mask and vaccination card! 
Saturday, May 28th 5 - 6pm 
Cornish Playhouse, 201 Mercer St, Seattle, WA 98109 
Sunday, May 29th 6:10 - 7:00pm 
Cornish Courtyard, in front of the Playhouse
This is an audience participation singalong!  Here are the lyrics you can download!
---
Strike!! Concert Recording
The Seattle Labor Chorus Presents...
STRIKE!!
A Fundraising Concert held
Saturday, May 7th, 2022 5:00-6:00 p.m. (PDT) 
THANK YOU SUPPORTERS! We reached our goal!  A recording of the concert is available below.
The lyrics and program for are also available.
In the glorious, centuries-old tradition of labor movement music, the Seattle Labor Chorus offers an evening concert with inspirational stories of workers struggling for power to bring about social, economic, racial, and environmental justice.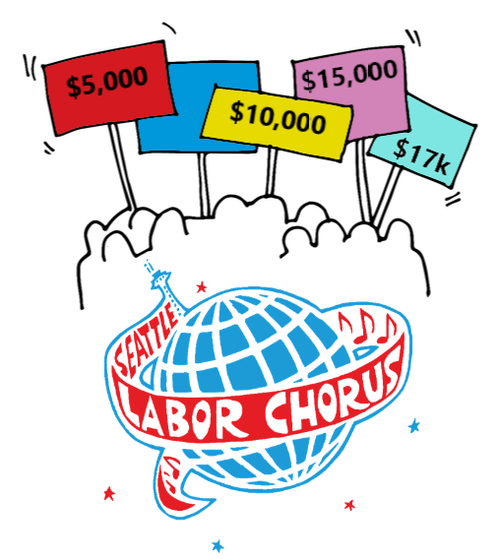 STRIKE! Concert Recording
The Labor Chorus is a non-profit, membership organization. All singers pay dues and contribute in other ways as well. Annual donations from unions and other labor organizations also enable us to support workers' struggles at picket lines and rallies. Financial support from our fans and supporters in the community is essential to cover expenses so we can keep singing for justice, safety, peace, and power for all working people. Our fundraising goal for this event is $17,000.